So today is Post it note Tuesday.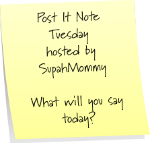 This is always a fun thing to do but whenever I think I can come up with something funny, I draw a blank when i get to the post it notes! Oh well. Maybe next week i'll be funnier. Until then, read my randomness below, then make your own
here!
Then go link up with SupahMommy over
here
! Have fun!!