Every once in a while, while I am sitting here in AZ, missing my friends and family back east, I tend to ask myself.... was it worth it?
Was it worth moving 2600 miles away from everything I have ever known my whole life? Was it worth leaving Kaleb and Christian with their father for the year to come out here? The decision was solely put on my shoulders. Carl would never ask me to move 2600 miles away from everything I've ever known.
It's been a bit of a financial burden for me to come here. Not so much moving here but all the money I've spent to go back east when I get sad. I've been home 2 times now and am going again in 2 weeks. For as much as I've gone home you would think that maybe we made the wrong decision.
But then I step out onto my patio off my bedroom and I see this: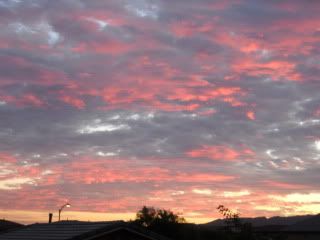 The change of scenery is absolutely AMAZING! It's new, its refreshing, its peaceful. So when I sit and wonder if we made the right decision, I just look out my window to the amazing things that I see.
Taken from my favorite Musical Artist: "Life's a journey, not a destination... you just cant tell, just what tomorrow brings"
So while I miss things in New England. My family, my friends, my old house on the lake.. I wouldn't trade what I have for the world. The experience of seeing new things, of meeting new friends and starting a new life.. For now, i'll enjoy this journey and i'll see what tomorrow brings!