Ok, seriously... these are the most delicious things EVER! I have never really been a fan of pumpkin so I was a bit scared when I tried this recipe. Holy crap... i think they should be tried by each and every human on the planet. These things are DELISH!!!

Brownie Batter
3/4 cup butter, melted
1 cup sugar
1 tbsp pure vanilla extract
2 eggs
1/2 cup all purpose flour
1/2 cup cocoa powder - I used Hershey's Special Dark cocoa
1/4 tsp salt
2 tsp cinnamon

Cheesecake Batter
6 oz cream cheese, softened - I used 8oz
1 egg
1/3 cup sugar - I used 1/2 cup
2 tbsp flour - I used 2 Tbsp + 2 tsp
1/2 cup pumpkin puree - I used 2/3 cup
1/4 tsp pure vanilla extract - I used 1/3 tsp
1/2 tsp cinnamon - I used 2/3 tsp
1/4 tsp each ground ginger and ground cloves - I used 1/3 tsp

Preheat oven to 350F. Grease an 8x8" square metal baking pan.

Beat together melted butter, sugar, and vanilla, then beat in eggs one at a time. Combine dry ingredients and then gradually stir into butter mixture with a wooden spoon. In separate bowl, beat together cheesecake batter ingredients.

Spread about 2/3 of chocolate batter into prepared pan, and spoon cheesecake batter over. Dollop remaining brownie batter over cheesecake batter. Swirl the batters together by running a butter knife back and forth through the pan.

Bake for 40 minutes, or until center is set. Cool completely on wire rack and chill before cutting and serving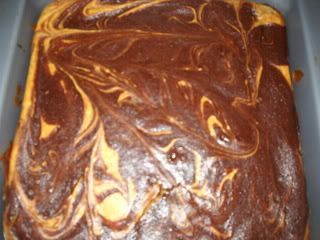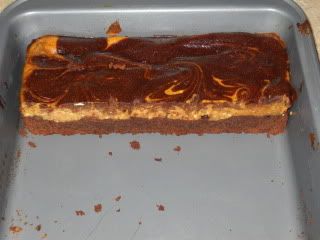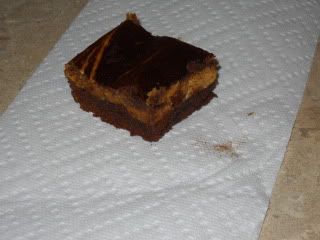 I found the recipe on
Beantown Bakers Blog.
She has a TON of yummy ideas that you should go and check out.
I chilled them overnight before I cut into them and man oh man... I think I am going to have a hard time with my 101 list because I think I gained 10lbs in my left thigh alone, haha! If you make them, please tell me what you think...