So in reading around in blog land, I came across
Mama M's blog
. This week, because of Valentines day, she is hosting a Valentine's Day Extravaganza.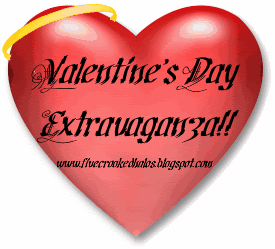 I am a little late to this so I Am going to start on day 4 and then maybe work my way back to day 1.
Today, the question was posed about what our favorite wedding memory was. It's hard to chose just one. My whole wedding was a favorite memory of mine. But because I am not on my own personal computer because of hard drive failure, I am going to go with the cake feeding. It's the only thing I have pictures of on this computer.
Even before our wedding day, we knew that we were going to be "immature" and do the cake feeding in a not so neat manner. Heck, we were at a really good friends wedding 7 month before ours and we practiced on how we would feed each other for our own special day.
What started as "I promise it wont be too bad", turned into "save some cake for the guests". Below is the play by play.
awww aren't we cute?
Ok... maybe I'm thinking twice about getting my dress dirty?
or maybe not?!?!
Yep, Im in for it now..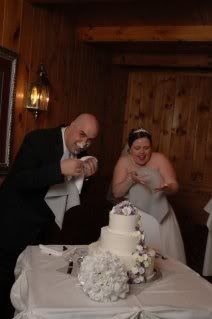 As our DJ put it.. He was going to be blowing frosting out of his nose all the way to Mexico!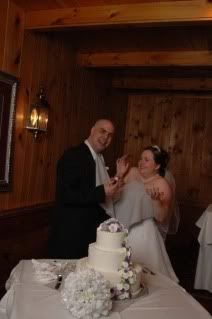 Maybe he will be nice to me? He loves me? Right?
Payback is a 5 letter word that starts with a B!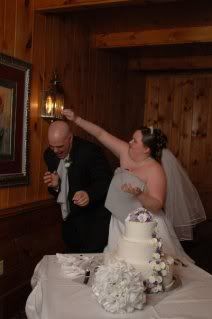 It was wedding cake ping pong!
I came out of it cleaner then he did!
In the words of my friend Larry the Cable Guy: "I dont care who you are, that's funny"
Oh and if you don't think so, then
Neener Neener Neener!!
Ok, just kidding! Sort of! I hope you all liked my story and I cant wait to read yours. Post away and then link back with Mama M!
Happy Early Valentines Day!!!