Today is Post it note Tuesday.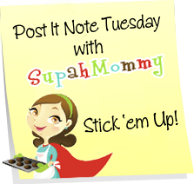 If you've never participated please do so. It's a fun way to find new blogs!
Supah Mommy
usually has some pretty funny stuff going on over there! Once you are over there, there are directions on how to play along and link up with her :-)
So here we go... My woes to the Autofixers of America.... UGH!