Yes, it is that time again where Amber
(aefilkins)
does her weekly friend makin monday. Today, her question is : What makes you happy?
I suppose there are a TON of different ways I could answer this question. I mean, sleeping in makes me happy, pedicures, chocolate, etc. etc. etc. But honestly, those are just things that temporarily make me happy. After giving it about 2 seconds thought, I decided that these things make me happy.
1. My husband
2. My amazing little boys; Chad, Kaleb, Christian and William
3. My wonderful family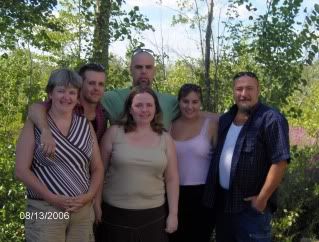 4. My BEST friends
Some of you might think that this is a pretty lame list, but honestly... they are the only things constant in my life. There are some days that someone in my family, or my husband or one of my friends might make me mad, but they are ALWAYS there for me...
So that is my list..... Now I ask the question of you... What makes YOU happy?