So I had a pretty great weekend! I got to head up to NY and hang out with one of my best friends. It was a girls only weekend so the boys stayed home with Daddy!
I left on Thursday night. When I landed on Friday morning, it was a whole 36 degrees. YIKES! When I left it was in the low 80's. Right from the airport, we went to Dunkins and got coffees which we then spiked with some Baileys. YUM! Then, off to see my favorite Tattoo Artist, Sern! I love this man. I hate having a tattoo guy that is 2000 miles away, but I guess it just means more trips for me. Sern worked on my foot for about 45 minutes and I absolutely LOVE my new tattoo!!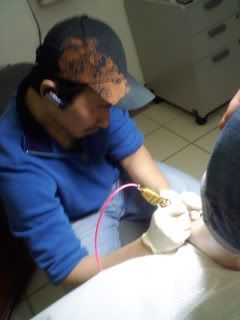 and a pic from today...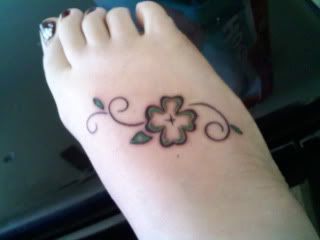 When that was done, we had to go shopping for a few things. We were going to see Wicked that evening and I needed a sweater to wear. So off we went. Shopping with Kristen is never a good idea because I always spend way to much money. We found the perfect sweater and went home to change.
We went to dinner at the Cheesecake Factory later that night then to a bar. The bartender and Owners are good friends with Kristen so we got all our drinks free... YAY! We saw Wicked which was AMAZING and then went back to the bar for some more free drinks!! Here is a pic from Wicked and the bar we went too!
Saturday we went out to lunch and then got ready for the Martini party we were hosting at Kristen's house. It was such a good time. 8 ladies drinking Martini's all night long. I was up until after 3AM... LOL! I feel so old because I cant do it anymore.. haha!! But it was a lot of fun!
The downside is that on Friday, Carl text me and told me Will had been sick. He's been throwing up since then. I have to bring him to the doctor today because he is very lethargic and still isn't keeping anything down. He threw up his "dinner" on our way home from the airport last night... Poor little dude. Then 2 times in bed last night and just this morning. As I type this, he his sleeping on the couch which is totally NOT like him... I feel so bad... I have a feeling we will be at the hospital tonight. But the Dr wanted to see him first!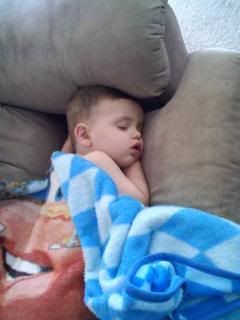 So that was my weekend in a nutshell. How was yours? Did you do anything fun and exciting?